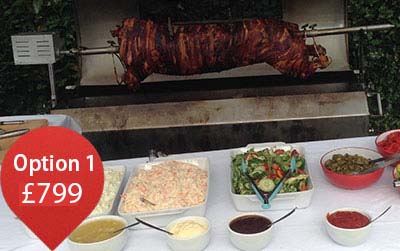 Hog Roast Option 1
Standard catering
We will cook and serve the meat and supply all rolls and apple sauce. Get 100 servings of cooked meat with rolls and apple sauce, all for £599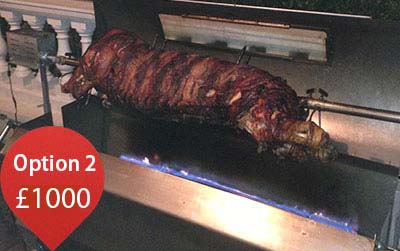 Hog Roast Option 2.
Premium option.
Hog roast, roasted at your or our premises with chef, carved, serve on trays with apple sauce + sauces as ketchup, mayo, brown sauce, choice of salads such as: mix salad of tomato onion papers cucumber and green leafs , potato salad, coleslaw, jalapeño peppers, gherkins, roasted read peppers rolls and buns, veggie quiche for vegetarians. We will also provide disposable plates and cutlery with napkins! Basically we have to be at the place of event 7h before guests have to be served! (if is the problem with us being there so early we can roast the hog at our premises and turn up 1h before serving, choice is yours) We would bring our 3x3 gazebo put all our equipment inside and roast the hog on the place! Half an hour before serving time we would raise the freshly roasted hog above the machine so all guests can enjoy in this magnificent view! Then assemble the table next to the machine where will be the disposable plates cutlery, rolls or buns, salads, apple sauce and freshly carved hog on trays from where the guests would be able to serve them self with desired choice of food! When the serving is over and all gests happy! We would collect all disposable plates cutlery food leftovers and rubbish, clean the premises and leave! The above service we call premium service and all that you get for £799.00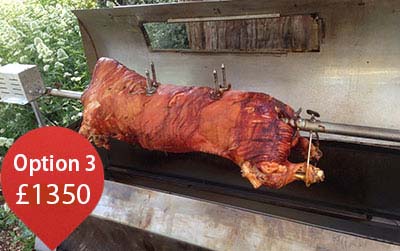 Hog Roast Option 3.
Premium + option.
Premium + option includes everything mentioned in premium service but you get extra cheeses, grapes and crackers, selection of puddings, fruit salads and all that you get for £999.00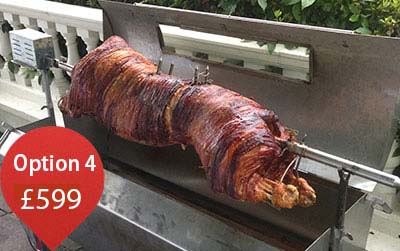 Hog Roast Option 4
Piping hot & ready to serve.
If you'd like to avoid the roasting hassle, order option 4, carve and eat. A whole freshly roasted hog at your door for only £399!
If you would like to serve the food yourself but don't have the space or time to roast the hog, we can roast the whole hog in our top of the range mobile oven and get it to you piping hot and ready to serve at a time that suits you.
What are you waiting for Contact us today